Not losing weight even after doing every right?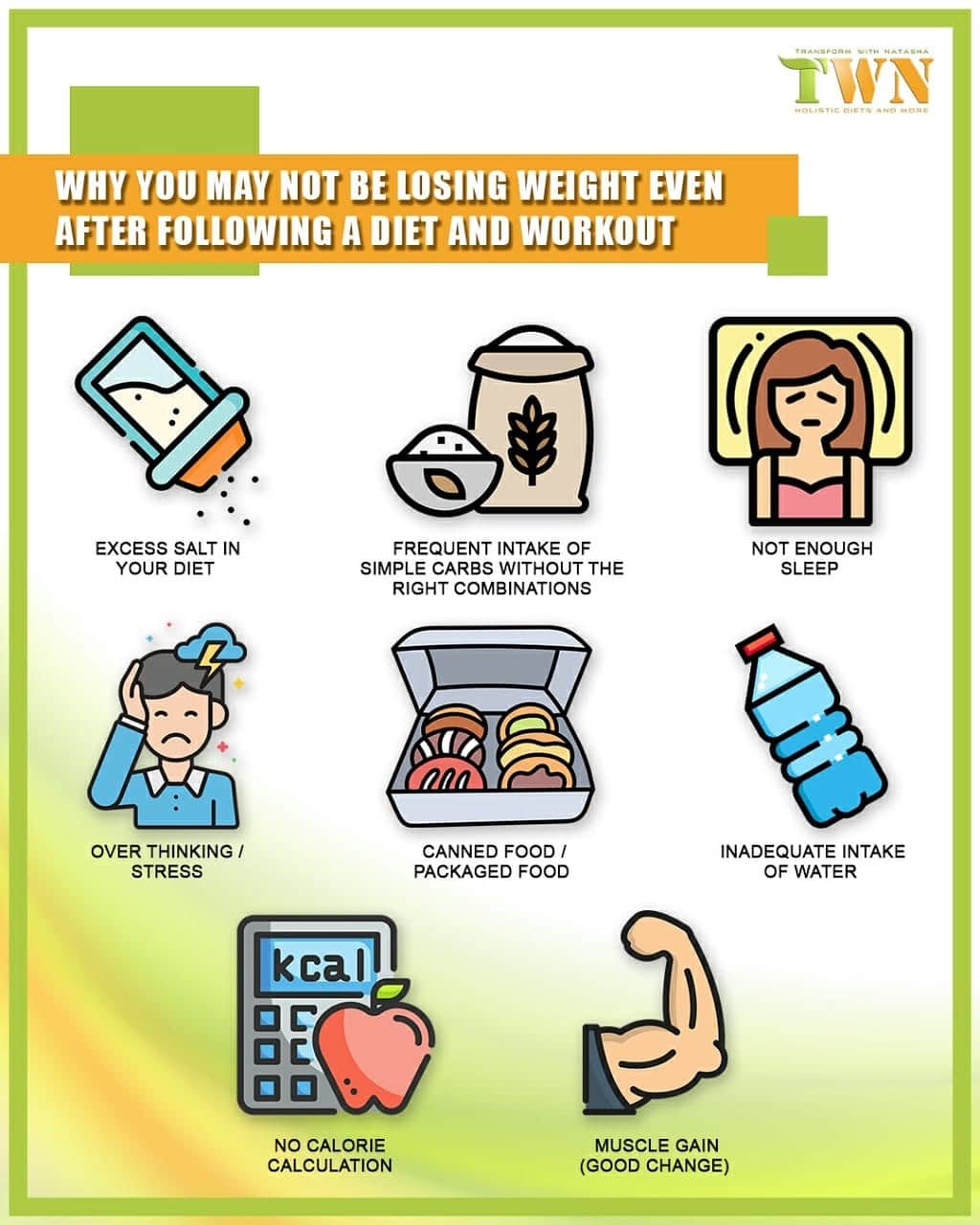 I have come across a lot of people who are working out, following a good diet and yet fail to see any progress.
It can be demotivating and many end up giving up.
Here are a few things we tend to ignore. Make the change and see the difference Excess salt in your diet:
Food high on sodium can cause your body to retain more water, which can show up on the scale as extra pound and also increases your blood pressure and many other health problems. Best to use very little salt to your food.
Excess intake of simple carbs without the right combination:
Your body breaks them down more quickly than complex carbs, which is in a way a good source of quick energy. However, eating excess simple carbs without the right combination can negatively impact your health because they cause blood sugar to spike quickly and to store extra energy as fat. Plan your meals right with the right combination for maximum nutrient uptake.
Not sleeping enough:
Sleep deprivation can disturb the hormones that regulate hunger and appetite, which can lead to over eating and weight gain. Chronic sleep deprivation can cause many health problems. So, don't forget to get your beauty sleep!
Overthinking and stress:
Stress is something we all can't avoid, but stress management is important. It leads to elevated cortisol level and a havoc on your metabolism, end result to which would be weight gain and poor health. Weight loss is about your mind and body, make sure you work on both.
Canned and packaged food:
It contains some amount of preservatives and recent studies show many other health problems. Always prefer fresh, home cooked food.
Inadequate intake of water:
Not drinking enough water can cause fluid loss in the body and can affect your metabolism rate. Dehydration is not good for your overall health. So, drink it up!
Calorie calculation:
It's simple, you need to burn more than you are eating. You will be surprised to know that the digestion process itself burns calorie too. Eating less is not the solution, eating the right food in your calorie frame is important.
Lifestyle changes and balanced nutrition play a crucial role when it comes to leading a healthy lifestyle with a holistic approach. Dietary changes, daily activity levels, stress management, better hydration levels and adequate sleeping patterns of 7 – 8 hours is the...