INGREDIENTS
200 gm foxtail millet
1 1/2 teaspoon fenugreek seeds
salt as required
80 gm urad dal
Olive oil
NOTE
The number of ingredients can change as per the number of people being served.
If you like you can change the style and make modifications to the mentioned ingredients and recipe.
DIRECTIONS
To prepare this delicious breakfast recipe, start by washing the foxtail millet and urad dal under running water. Now, take two bowls and pour water in both. Add the foxtail millets in one and urad dal with fenugreek seeds in the other, and soak them for 6 hours or overnight.
When they are both properly soaked, transfer them to a blender and blend it into a smooth batter. You can drizzle water to help the process, then, add a little salt according to taste. Next, transfer the batter into another bowl and let it ferment for 6 hours. The fermented batter is the one used to make the Dosa.
Now, take a Tawa over medium flame and heat it. When the tawa starts heating, grease it with oil and then carefully pour the prepared batter in the middle using a ladle. Spread the batter in a circular shape with the ladle and allow it to cook for 10-15 seconds.
Then, dribble some oil over the edges of the dosa and carefully flip it upside down. Allow it to cook till both sides turn golden brown in color. Repeat the process till all batter is used.
Transfer the Foxtail Millet Dosa to a serving plate and pair with mint coriander chutney. Serve warm and enjoy!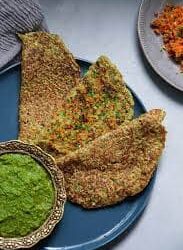 INGREDIENTS Green gram dal 30 gms, soaked Hung curd1 tbsp Mixed vegetables1/2cup (carrot, cucumber, capsicum) Onion, finely sliced1/2 small (25 g) Cumin seeds (jeera)-1/2 tsp Fennel seeds1/2 tsp Green chilies 1 no. (depending on taste), finely chopped...